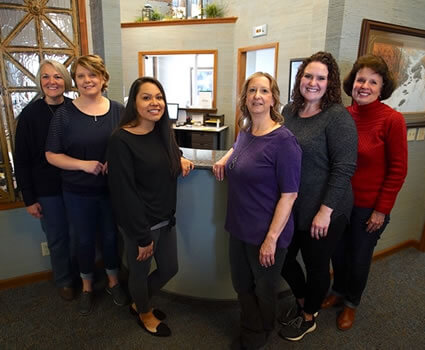 Meet the Team at Grand Island Chiropractic
Our staff has a combined 50 years of service with Drs. Tim, Brian Dunagan and Dr. Derek Lux. As working mothers, they understand busy schedules. They strive to make your wait to see the doctor as brief as possible. We care about our patients and love watching our doctors improve their health.
Karen Spiehs RT and Megan Kucera BSRT
Both Karen and Megan are registered radiographers, and both assist the doctors with patient care and physical therapy. Karen and her husband, Rex, live west of Grand Island. They have 3 grown children, and five grandchildren. Megan and her husband, Eric, live in Grand Island and have two daughters.
Mandy Olivo
Mandy is responsible for our insurance billing. She is also trained to help in the back office with physical therapy. Mandy and her husband, Jesse, live in Central City, and have two sons.
Connie Benson, Raelyn Burton and Diana Martinez
Connie and Raelyn job share the duties at the front desk and both work approximately two days per week. Connie and her husband Birger live in the country northeast of Grand Island. They have 4 children and 6 grandchildren. Raelyn and her husband Allan live in Grand Island. They have 4 children and 7 grandchildren. Diana is our fulltime bilingual receptionist. She and her husband live in Grand Island with their two children.
Get Started Today
Give us a call today to learn more about how we can help and to get started on your journey to better health!
CONTACT US

Meet The Team at Grand Island Chiropractic | (308) 381-1312