Cold Laser at Grand Island Chiropractic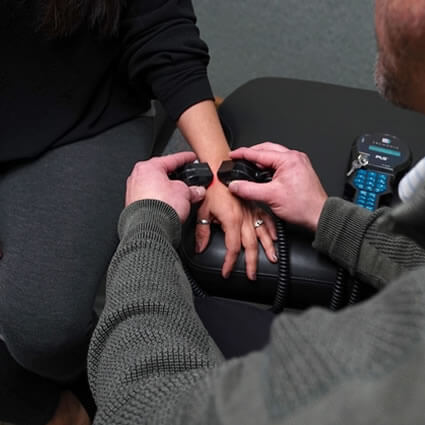 If you've ever had an injury, you know just how painful and limiting it can be. You might be unable to complete your daily activities or have given up your hobbies. At Grand Island Chiropractic, we want to make sure you can return to doing all the things you enjoy.
Our cold laser is a beneficial form of therapy that can serve as a fantastic complement to your chiropractic care with us.
Who Can Benefit From Cold Laser?
A cold laser can be used in situations such as a sports injury, car accident, ankle sprain or post-surgical rehab. It is mostly applicable to acute injuries. Commonly, it is utilized for tendon or ligament damage, or for areas of scar tissue buildup where mobility is limited. Here is a testimonial from one of our patients:
"Carpal tunnel in both of my wrists were making it very hard for me to perform normal everyday tasks. I couldn't use my computer, pick up my grandkids and it was even hard to sleep comfortably. After two weeks of treatment, my symptoms were 75% better. I'm so thankful to have found this option before surgery."
The laser is applied to an area to increase healing there. There is no heat used. It brings nutrients to damaged, injured tissue.
Your laser therapy session is quick, so it won't add much time to your appointments here. You'll likely be adjusted along with it. Our recommendations about laser therapy will be specific to your case, but generally, the laser is not recommended over a longer time frame.
Does it hurt to get cold laser therapy?

No! One of the many benefits of using Cold laser therapy as a soft tissue modality, is that it is pain free.
How many sessions will I need?

Every injury is different. How often we use the cold laser often times depending on the severity of the injured area. Minor injuries are often better in just a few treatments. More signifcant soft tissue injuries can take 8-10 sessions. Often times, like with other forms of treatment or modality, cold laser is most often used during a series of visits over a short period of time. For example, we will treat Dorthy's carpal tunnel 2-3x/week for 2 weeks.
How will I feel after each session?

Cold laser utilizes infrared laser light that helps inflammation, swelling and pain. Although some patients receive instant relief, it is more common for people to notice a gradual relief of pain, an increase in range of motion, and less localized swelling. Occasionally, some mild soreness can be felt at the treated area.
Does insurance cover cold laser therapy?

Every insurance plan is different. You and/or Our office can check on your insurance benefits of cold laser.
Is there anyone who can't have the therapy?

One of the greatest benefit of using Cold Laser is the fact that you can use it on almost anyone. After your complete examination, your doctor will determine if Cold Laser therapy is an open for you. We avoid using the Cold Laser in pregnant and cancer patients.
Get Started
Contact Grand Island Chiropractic now to schedule your appointment. We're open six days a week!
CONTACT US

Laser Therapy in Grand Island NE | (308) 381-1312